Michigan Custom Machines provides engineered solutions for automotive and industrial component manufacturers. We are one of the only U.S. manufacturers of advanced test machines that are customized to your needs and specifications, elevating the quality and efficiency of your products. Our global expertise in hydraulics, controls, electronics, fixture design, and line integration, along with 25+ years of experience, make us ideal partners to help simplify your most complex challenges, accelerate the completion of your projects, and facilitate the kind of fearless innovation that will drive you and your company into the future.

XSTREAM Flowmeter Is Revolutionizing Fuel-Injection Testing
A shot-to-shot flowmeter that provides reliable, actionable data beyond current industry standards

Delivers the most precise measurements

Backed by MCM's renowned onsite training and support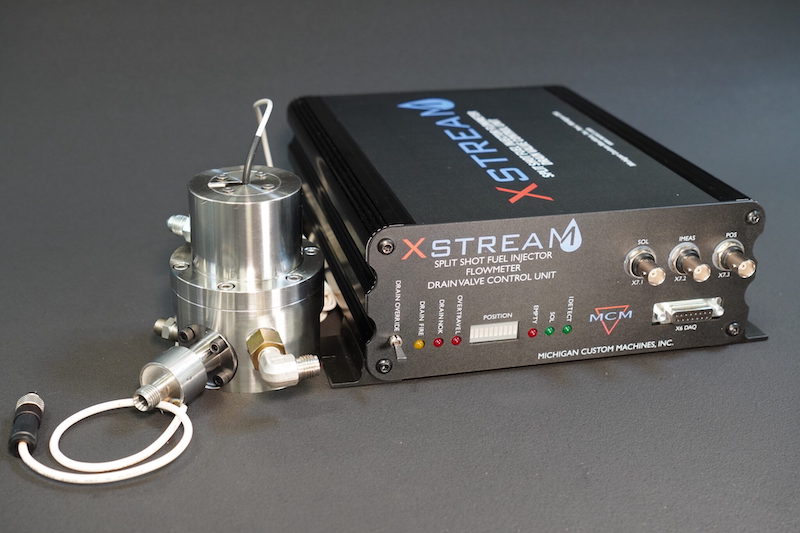 Engineered Solutions
MCM designs turnkey product-testing equipment that exceeds standards, whether it's in the lab or on the factory floor. We specialize in hydraulics, but often work in other areas, such as electronics and controls. Our goal is to produce to your specifications — and often use our experience and expertise to innovate beyond the specs to give you optimal results. We partner with you through every stage of production to ensure success.
"The line performance was excellent and your organization did a great job. I am really happy that this project has gone well – as you know our folks are very demanding/particular with regard to test stand performance – getting an 'A+' from this group is not easy."
Todd Zacreski, President of HUSCO International, Inc.
One of our core strengths is hydraulic fluid power, which gives us keen insight on the fuel systems and oil-powered engine components, like fuel injection, brakes, and transmission valves. But in addition to our expertise in gas and diesel, MCM also has extensive experience in the electrical vehicle arena, rounding out our knowledge of every component of the modern automotive drive train.
When lives are on the line, precision and reliability are essential. That's why MCM offers a comprehensive way to test various medical equipment — from implantable devices to ultrasounds to defibrillators — ensuring the comfort, health, and safety of patients everywhere.
The world is constantly looking for cheaper, cleaner, and more efficient energy sources. MCM is continually developing the techniques and devices that make that possible, partnering with companies in this sector to power us all into the future.
Our vast experience with fluid power and nozzle systems makes MCM a natural fit for today's jet propulsion systems. With our intimate knowledge of pressure control, flow measurement, and nozzle operation, we have the unique talent to elevate companies in this budding industry into the stratosphere.
Our military is always there for our protection. As the sole U.S. manufacturer of advanced test machines, MCM is always there for our military. We are proud to ensure the utmost reliability and longevity in their equipment, whether it's testing body armor or military simulation machines. Some of our innovations were implemented more than 20 years ago and are still performing at peak levels to keep our nation safe.
The core of our business is helping your business. Whether it's automotive, agricultural, mining, manufacturing, or something in between, our machines help you achieve higher efficiency, longer durability, increased production, and lower cost. Plus, through quality control, we protect what's most important to you — your reputation.
CURRENT MEMBERSHIPS




Latest Posts
For years, Michigan Custom Machines and Automation Controls & Engineering, LLC (ACE)... read more